KEYper Systems - Key Storage and Key Management Systems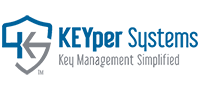 Problems Tracking Your Keys?
Take control. Trust KEYper® Systems.
KEYper® Systems is a global company committed to providing you with the best solutions in key storage and key management systems, padlock management for your "lock out / tag out" procedures, and asset control of equipment.
Mechanical Key Control System
The KEYper® Mechanical Key Control & Peg System consists of a key board that holds from 5 to 150 key plugs. Key plugs are individually locked into a numbered port on the board.
A tamper-resistant seal secures one or more keys to each key plug. The tamper-resistant seal from the KEYper® Mechanical Key Control cannot be removed unless the wire is cut.
Persons authorized to remove keys with the key control system insert their personalized access peg into the port of the desired key location, and turn to release the keys.
The individualized access peg on our mechanical key control's peg system remains locked in the board until the key is returned to its location. This gives an at-a-glance audit of which keys have been removed, and by whom!
These key control management systems come in several sizes. Each unit is based on the use of 5-key modules that can be combined to create systems that can manage 5, 10, 15, 25, 50, 100, or even 150 keys at a time! Single keys, or items such as tools and dealer plates can be managed with the Single Key Management System.
Electronic Key Management System
The KEYper® Elite Series electronic key management systems are the most recent additions to the KEYper® line of electronic key management system products. The KEYper® Elite Series is ideal for your key and asset organization and accountability needs.
Using a Windows Embedded based PC system controller, and state-of-the-art semiconductor technology, the Elite Systems electronically catalog and track the keys used in your facility – keeping a record of key removals and returns; by whom, when, and why! An electronically controlled steel cabinet is used to store and restrict access to keys, and can only be opened by commands from the system controller after a user is verified. Web-based Administration for the Elite Series allows administrators to access the system from any PC within your organization, at any time.
Contact us to review your product needs!